Eagle-Sage (Lontobyn Chronicle #3) (Compact Disc)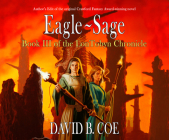 $39.99
The book is not currently in stock at our stores. Please call us for price and availability.
Other Books in Series
This is book number 3 in the Lontobyn Chronicle series.
Description
---
Seven years have passed since Orris, a mage of Tobyn-Ser's Order, returned from the violent chaos of Bragor-Nal. The threat of attack from Lon-Ser has been eliminated, but the establishment of trade between Tobyn-Ser and its western neighbor has brought new and disturbing changes to the land. Large tracts of woodland have been logged and sold off in exchange for more of Lon-Ser's "advanced goods." The Order and the League continue their struggle for supremacy, and a new force, a "People's Movement," has allied itself with so-called independent mages who claim no ties to either body. In Lon-Ser, Melyor, the beautiful Gildriite who made herself Bragor-Nal's Sovereign, is nearly killed in an assassination attempt. Her ally, Shivohn, matriarch of Oerella-Nal, is herself killed by a similar attack. Treachery and betrayal lie at the heart of a plot that endangers not only Lon-Ser but also Tobyn-Ser and its Mage-Craft. When Jaryd, who has been unbound for months, finally binds to an eagle, he fears the worst, for, throughout the history of Tobyn-Ser, the binding of a mage to an eagle has always been a harbinger of war. When Cailin, a League mage, binds to a second eagle, Jaryd fears that his land teeters on the brink of Civil War. Crisis grips both lands. Can Melyor overcome an unseen enemy and a thousand years of prejudice to save Lon-Ser? Can Jaryd and Cailin bring peace to the mages of Tobyn-Ser in time to stop an old and emboldened enemy from destroying everything they hold dear?