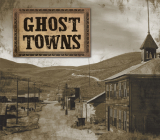 Email or call for price
Out of Print. This book is not available to order. If you would like to double check please give us a call.
Description
---
Take a historical and visual tour through ghost towns in North America. Find out what these communities were and what they've become.
Full of nostalgic old and desolate contemporary photographs that capture the essence of many of these places.
Find out what happens when once bustling businesses and thriving villages reach the end of their lifespan.
Locations in the western United States and throughout the rest of the country and continent are included to provide a variety of events and calamities affecting the towns.
Hundreds of photographs bring the ghost towns to life.
Hardcover, 192 pages