Batman: Bat Signal (RP Minis) (Paperback)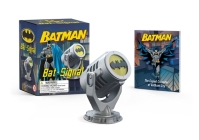 $9.95
On Our Shelves in the last 24 hours. Click to see a specific store location's stock.
Description
---
A one-of-a-kind light-up miniature replica of Batman's Bat-Signal! Kit includes:
2-3/4" high bat-signal the projects the iconic Batman symbol onto nearby walls and other surfaces
48-page book of Batman history, featuring full-color illustrations
Batteries included.