A Christmas Story Leg Lamp Kit (RP Minis) (Paperback)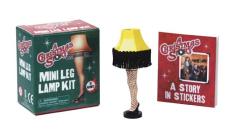 $9.95
On Our Shelves in the last 24 hours. Click to see a specific store location's stock.
Description
---
This miniature light-up leg lamp prop replica from A Christmas Story is the perfect "stocking stuffer"! Kit includes:
3.5" tall replica of the movie's iconic Leg Lamp prop, complete with an actual light-up feature and packaging material to protect the "fragile" ornamental piece
Book of stickers
About the Author
---
Miniature Editions are brought to you by the Editors at Running Press.