Rusty Brown (Pantheon Graphic Library) (Hardcover)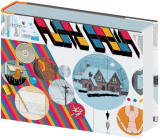 Staff Reviews
---
At 350 pages, one could be forgiven for wishing that Chris Ware's dense, macro/micro-scopic graphic novel take on 20th C. American life was... um, complete, but it ends with an "intermission". So there is more yet to come, however, more of Ware's work should always be welcomed, and Rusty Brown is only really incomplete in the way that Proust's Swann's Way is part of the larger In Search of Lost Time. And that comparison is not too elevated: Ware makes the richest, deepest, most humane, and visually beautiful work in comics. Rusty Brown makes the mundane milieu of suburban, mid-western, mid-size city, USA the site of universal struggles, wrenching pathos, and sweet-sad tragi-comedy, while Ware's absolute mastery of the comics form allows him to craft a structure so intricate and gorgeous that it eventually lifts the reader away from the edge of misery into a transcendent sense of human connection and perseverance. Solid gold literature.
— From
Jonathan's Picks
Description
---
***FINALIST FOR THE 2020 PEN/JEAN STEIN BOOK AWARD***

*** NEW YORK TIMES 100 NOTABLE BOOKS OF THE YEAR ***

A major graphic novel event more than 18 years in progress: part one of the ongoing bifurcated masterwork from the brilliant and beloved author of Jimmy Corrigan: The Smartest Kid on Earth and Building Stories.

Rusty Brown is a fully interactive, full-color articulation of the time-space interrelationships of three complete consciousnesses in the first half of a single midwestern American day and the tiny piece of human grit about which they involuntarily orbit. A sprawling, special snowflake accumulation of the biggest themes and the smallest moments of life, Rusty Brown literately and literally aims at nothing less than the coalescence of one half of all of existence into a single museum-quality picture story, expertly arranged to present the most convincingly ineffable and empathetic illusion of experience for both life-curious readers and traditional fans of standard reality. From childhood to old age, no frozen plotline is left unthawed in the entangled stories of a child who awakens without superpowers, a teen who matures into a paternal despot, a father who stores his emotional regrets on the surface of Mars and a late-middle-aged woman who seeks the love of only one other person on planet Earth.
About the Author
---
CHRIS WARE is widely acknowledged to be the most gifted and beloved cartoonist of his generation by both his mother and fourteen-year-old daughter. His Jimmy Corrigan: The Smartest Kid on Earth won the Guardian First Book Award and was listed as one of the 100 Best Books of the Decade by The Times (London) in 2009. Building Stories was named a Top Ten Fiction Book of the Year in 2012 by both The New York Times and Time magazine. Ware is an irregular contributor to The New Yorker, and his original drawings have been exhibited at the Whitney Biennial, in the Museum of Contemporary Art in Chicago, and in piles behind his worktable in Oak Park, Illinois. In 2016 he was featured in the PBS documentary series Art 21: Art in the 21st Century, and in 2017 an eponymous monograph of his work was published by Rizzoli.
Praise For…
---
***A NEW YORK TIMES 100 NOTABLE BOOK OF THE YEAR ***
***A NPR BEST BOOK OF THE YEAR***
***ONE OF LIT HUB'S MOST HIGHLY ANTICIPATED BOOKS OF 2019***

"Feverishly inventive and intimately told, drawn with empathy, architectural rigor and a spooky sense of a divine eye . . . [Rusty Brown] is the most audacious and inspiring fiction I've read this year."—The New York Times Book Review

"Ware's trademark excruciating beauty and meticulously crafted, gloriously intricate despair."—Los Angeles Review of Books

"Nobody chronicles lives of quiet desperation with the exacting meticulousness of Chris Ware. His singular style provides him, and us, with direct access to the primal emotions we collectively repress. . . Precision that will take your breath away."—NPR (Best Books of the Year)

"Nearly two decades in the making, Ware's latest book, Rusty Brown . . . is shaping up to be Ware's epic, a kind of comic-book Ulysses full of unreliable narrators and occasional forays into stream of consciousness. Take that, Stan Lee."—Esquire

"Chris Ware's design sensibility is masterfully claustrophobic . . . the ambition of his storytelling, the scope of his vision, and his absolute control over his medium are astonishing. A generational achievement, presented in a gorgeous edition."—Forbes

"Remarkable . . . Masterfully illustrated, brilliantly designed, and bursting with compassion . . . This is without a doubt one of the most exciting releases of the year."—Library Journal (starred Editor's Pick)

"Showcase[s] Ware's sublime artistic vision, blending his trademark drawings with a lyrical exploration of weighty themes."—The Washington Post

"Awe-inspiring . . . A treasure trove of insight and invention . . . Ware's sensibility is gloriously mixed . . . Rusty Brown is a human document of rare richness – infinitely sad, intimately attuned to desolation and disappointment, but never closed to the possibility of a breakthrough . . . Impassioned and ineffable."—The Guardian
 
"Chris Ware's Rusty Brown depicts life the way it is: jam packed with details, the closer you look the ever more there is." — Bookworm

"He is one of the most celebrated living cartoonists . . . His artistry is surgically precise, his lettering a finely-calibrated wonder . . . Ware's prose is bleak but beautiful, and often grapples with devastatingly relatable themes . . . Exceptional . . . As a whole, Rusty Brown is going to be spectacular, but for now, this first volume is a great and promising start."—Run Spot Run

"Ware's dazzling geometric art has never been better. Ware again displays his virtuosic ability to locate the extraordinary within the ordinary, elevating normal lives to something profound, unforgettable, and true."—Publisher's Weekly (Holiday Gift Guide)

"Another sprawling and adventurous novel that, like all of his work, is lonesome, rueful, uncertain about human connection, yet also empathetic, dazzling—as committed to depicting the overlooked and anonymous as it is innovative."—Chicago Tribune
 
"Ware is a master of finding the sublime in the mundane . . . a deep exploration of the essence of being human. You'll admire the extraordinary artwork and attention to such details, but you'll also be moved to your core by the writing."—New City

"Ware is well known for his expansive, introspective, depth-plumbing works of graphic fiction, and his latest, featuring a series of interconnected, decade-spanning narratives spiraling outward from an Omaha school, is no different . . . There are only brief moments of warmth and affection, but the wider picture, depicting a complex matrix of aching loneliness; long-simmering, acidic resentment; and a desperation for human connection and fulfillment, is rich with pathos and powerfully stirring."—Booklist (starred)

"Rusty Brown is a towering achievement, a hefty, hardback graphic novel that examines, in meticulous and sumptuous detail, the lives of six intertwined characters on a single wintry day in an anonymous Midwestern town . . . There is an underlying melancholy to many of the characters' lives, but with flickers of hope and redemption threaded through the narrative and the beautiful, precise illustrations . . . A powerful and sometimes heartbreaking book."—AV Club THE BIG ISSUE

"Ware delivers an astounding graphic novel about nothing less than the nature of life and time as it charts the intersecting lives of characters that revolve around an Omaha, Neb., parochial school in the 1970s . . . Ware again displays his virtuosic ability to locate the extraordinary within the ordinary, elevating seemingly normal lives into something profound, unforgettable, and true."—Publishers Weekly (starred)

"Ware fans rejoice . . . Curious and compelling . . . As with Ware's other works of graphic art, the narrative arc wobbles into backstory and tangent: Each page is a bustle of small and large frames, sometimes telling several stories at once in the way that things buzz around us all the time, demanding notice . . . a beguiling masterwork of visual storytelling from the George Herriman of his time."—Kirkus Reviews (starred)

"There's little in Chris Ware's comics that goes unexplored; sadness, disappointment, joy, love, among others are all represented . . . Ware's talent as a cartoon storyteller is never in question, regardless of subject matter, but Rusty Brown still stands out as among his most affecting stories . . . Yet another unmissable Chris Ware release."—Pop Matters

"Intimate and feverishly inventive, it follows multiple characters to reveal moments large and small . . . Ware's true gift is not the density of his books but in how he compels us to feel amid such bounty."—The New York Times Book Review
 
"Emotionally and visually, Ware's books are often sprawling and messy, but they are never unclear. His panels, small and detailed, are often part of meticulously designed pages, some of which unfold into larger configurations. And yet, there's a spontaneity to Ware's work . . . To work through a Chris Ware graphic novel is, in a way, to work through life—its joys, disappointments, exhilarations, and uncertainties."—The Millions